info@spjconstruction.co.uk
LIGHT GAUGE STEEL FRAME CONSTRUCTION
       Light gauge steel framing systems consist of structural frames fabricated using cold formed steel sections and can be used throughout a structure, there are huge benefits of using this process over any other construction method. Steel frame construction is used across the world and today is a common choice in modern buildings. ​
        Whether you are looking to build your dream Victorian home, a modern extension or a block of commercial high rise apartments, the steel frame process can be used for all. Before using this process, we work closely with architects and engineers to achieve your building specifications and designs through steel framing.
But when you think of a steel building, you would usually think of large industrial warehouse or boring metallic structures but what if a steel building doesn't have to actually look like a steel building? ​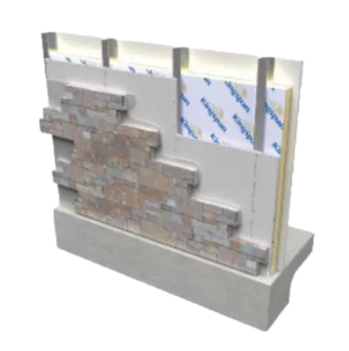 Using the vast benefits that steel framing boasts, the structure is steel but we can create any finish as cladding to your light gauge steel frame home or building, as you wish. The great thing about this process is that it is easy to change or modify the construction at any point during the lifespan of a project.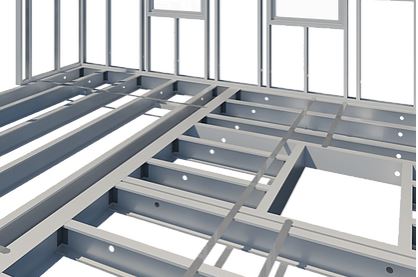 In today's world it is more and more important to consider the impact that we are having on the planet in all industries and the steel industry has made becoming a greener builder uncomplicated. Whilst the need for housing is growing and growing, the population set to grow even more this need increases and steel can be the answer to provide sustainable building solutions.
The production of steel has become more and more energy efficient and the construction of steel enables efficiency, durability and recyclability. The material efficiency, the relatively low weight and the recyclable property of steel structures are directly linked to less use of resources and energy, less waste and less emissions. The durability aspect means less re-construction and therefore an overall sustainable improvement compared to any other construction method. Steel is unique as a construction material as it is fully recyclable, it can be recycled again and again without loosing its quality. 
Efficient steel production

Buildings are constructed quicker 

Less labour time, more cost efficient 

Less waste on site

Safer construction process

Less community disruption 

Less pollution from heavy machinery 

Completely recyclable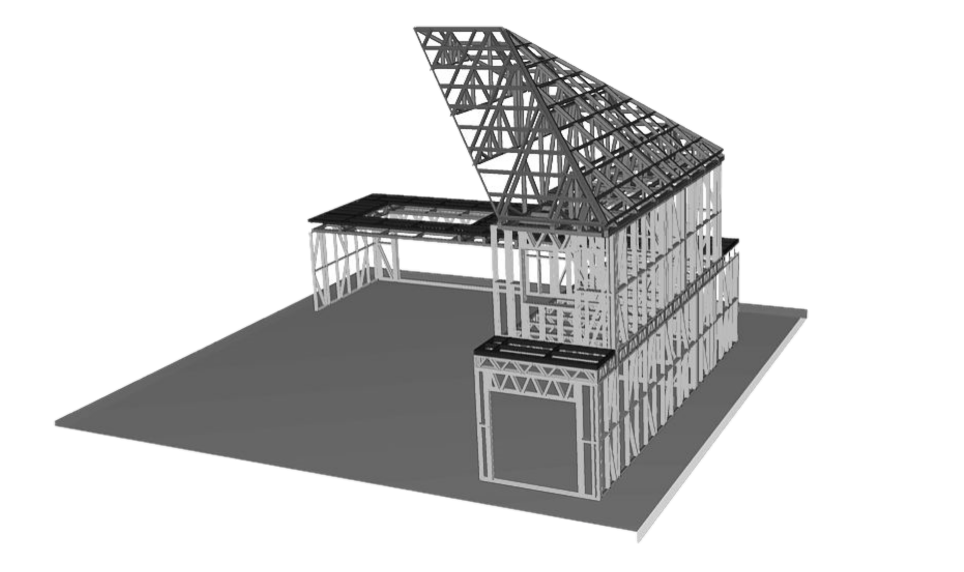 Light Gauge Steel Frame Construction: 
In today's current market, the residential sector has been put under increasing pressure and it has become more apparent that the housing industry and government can no longer meet the current demand. What is needed is an affordable, durable and sustainable method of construction as a solution. Long gone are the days of traditional brick and timber methods, our steel frame construction process at Uniframe can now replace this and be the answer to all of our construction nightmares. 
The Benefits: 
In comparison to traditional, wooden techniques there are various benefits to steel frame construction and many reasons why steel makes an attractive building option from start to finish.
You can build faster
When time equals money, what other benefit do you need? Steel frames are prefabricated offsite to fit certain specifications before being delivered to a construction site. Therefore, when sent out they are ready to be assembled, unlike in-situ concrete where the waiting times in between construction can be lengthy. 
It allows for creativity 
Steel is extremely versatile and can be fabricated into various shapes whilst still maintaining its durability and strength. Using steel, architects can truly let their imaginations run wild, whilst conforming to the safety and resilience of the building plans. This versatility also allows for space maximisation, being able to create larger span buildings and rooms. 
The environmental gains 
Waste is a hot topic in the world today and with the computer modelling process before fabrication this means a reduction of the scrap steel produced and any scrap that is produced can be used for other projects. This concept of endless recycling means the sustainability factor is far superior to any other material. 
You save money 
And isn't that what everyone is trying to do? Most savings in steel framing is from the reduced labour costs and decreased construction time but there is still more benefits to save money. For example, steel is more durable and therefore less maintenance fees and repairs should be needed. 
It doesn't degrade 
Steel is immune to degrading effects, it lacks porosity so mould cannot grow and therefore it will not rot. It is moisture resistant and won't expand and it will last longer, unlike timber, steel doesn't crack or creep as it ages. It is also immune to any degrading effects of insects which is a common problem for wooden framework. 
We start our build process with a scaled 3-D model so we can talk thought from the start to final design with our clients. We find these 3-D models help our clients visualise their dream home rather than explain 2-D flat drawings.